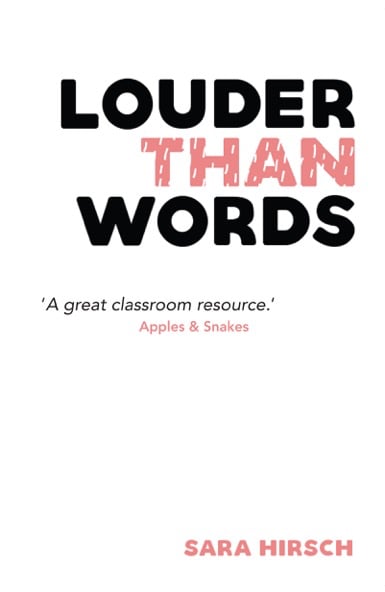 In New Zealand? Head over to Sara's NZ store to purchase in NZ Dollars:
https://sarahirschnewzealand.bigcartel.com/
***
'A great classroom resource' Apples & Snakes
​
LOUDER THAN WORDS is a conversation between poems, schools and hemispheres, including poems by students in London and New Zealand, alongside original poems by UK Slam Champion Sara Hirsch.
These are the poems scrawled in the back of maths textbooks, stuffed in blazer pockets, the poems spat in school playgrounds and the ones that never made it that far. These poems spiral between the personal and the universal in an attempt to capture what it is to write, speak and breathe as a young person today and as a poet who still doesn't know what she wants to be when she grows up.
'This book shows that one of the great ways to start people writing poems is for one person to read a poem they've written and talk about it. This sets off a string of thoughts and ideas in the minds of those listening who can, if the situation is right, usually start writing. In this excellent collection, Sara Hirsch both demonstrates the method and gives us the results, making it a great read and model for how to teach poetry.'
Michael Rosen
'Giving young people a voice is one of the most important things you can do for a community. If you are ever lucky enough to attend one of Sara's workshops, you will see her lead by example with poetry and tutelage to capture the imagination. This book reflects that passion.'
New Zealand Poetry Slam
Published by BX3 (in imprint of Burning Eye Books) in 2017.